Congratulations to Lenore D'Arpino for winning the Josh Allen Signed Bills jersey
13th Annual John Fiore Foundation Memorial Golf Tournament Results
Our golf tourney to benefit

WNY Heroes

and the

Ronald McDonald House of WNY (Buffalo)

was a HUGE success.



Because of YOU, we were able to raise a record

$52,700

(including the wheelbarrow of booze proceeds for
Lauren Ode and the drink station proceeds to benefit Jose Garcia) at this y

ear's tournament.
​Thank you to our golfers, it was a beautiful day to be on the course.
Thank you to are sponsors who support our mission.
Thank you to everyone who donated for our raffles and auctions and to everyone who purchased tickets.
Thank you to our volunteers who give up so much of their time and who work so hard to make the day perfect.
Thank you to Jim and his team at Willowbrook Golf Course for making the day run so smoothly.
Without you, we wouldn't exist. You inspire us to do more and to work harder to improve the lives
of the
people in our community.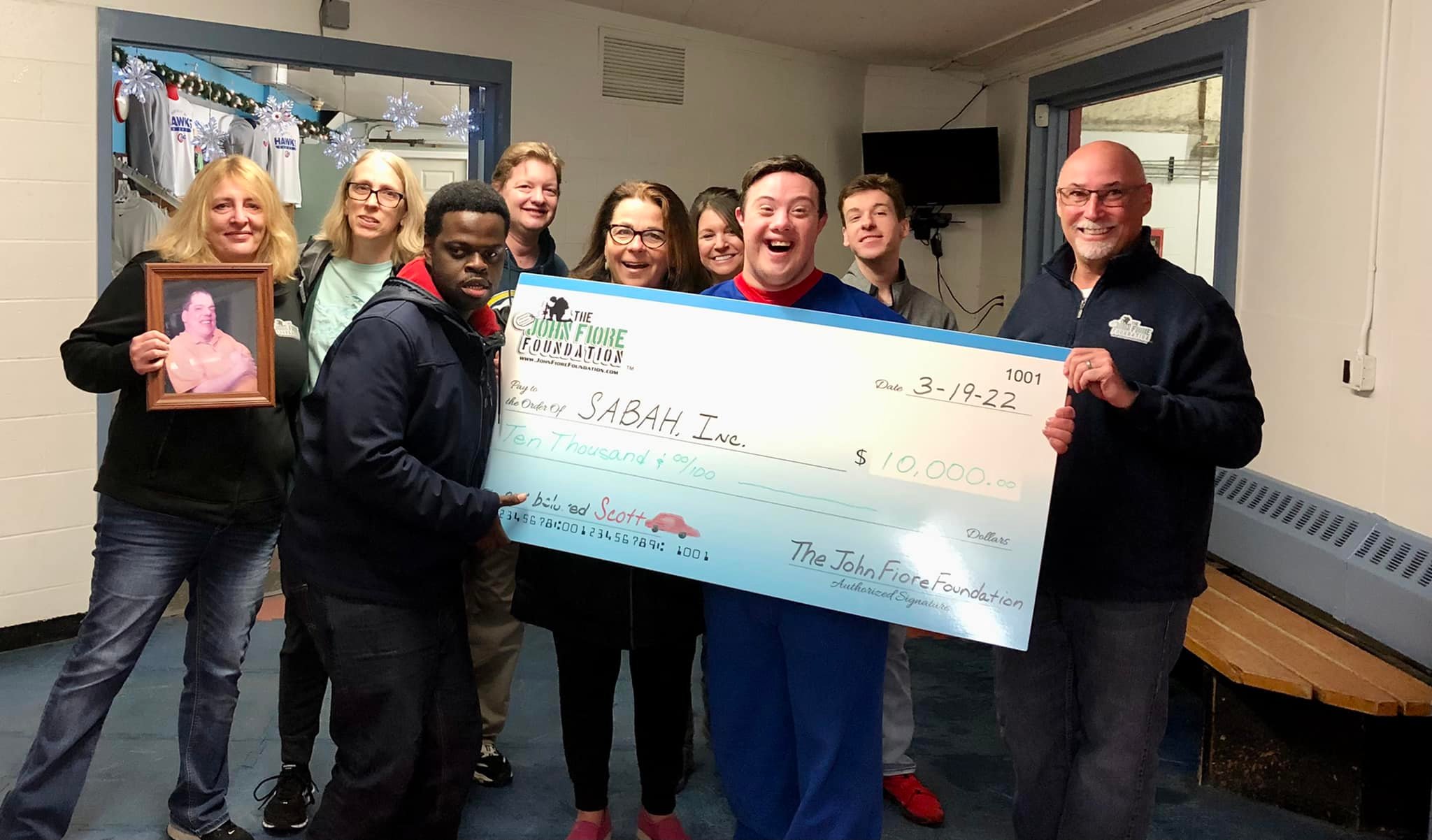 Our Donation to SABAH, Inc.
The John Fiore Foundation presented a donation of $10,000 to SABAH Inc. in memory of our beloved Scott Fiore. This was made possible by all who purchased tickets for our Yeti Cooler of Surf & Turf.

We also want to say thanks to the generosity of those who attended our Meat Raffle, we were able to send sizable donations to three members of our community to assist them with expenses while undergoing treatment for cancer. We are so grateful for your support and that you believe in our mission!

The John Fiore Foundation
​Little Free Food Pantry
We're so very excited to have opened our Little Free Food Pantry to the public on November 20, 2021!
We are beyond grateful to all who made our dream come to fruition: Councilman Ken Tompkins for believing in us and for making all of the necessary connections, Kendra Cleri, Jacqueline Johnson, Geoffrey Burns & John Walp for dedicating their Facebook birthday fundraisers to us, MJ Alessi for her guidance & inspiration, Gary Johnson for building the box from a crazy idea in our heads, Brian Markovich & David Dingman for ensuring that it was installed properly, Joanne Lorenzo for allowing us to place it on the property. We appreciate you all more than you could possibly know. Anyone can bring items to help fill the box at anytime at 910 Falls Street at the corner of 19th
and Falls Street, it is well lit and there is a security camera.
Love,
The family and friends of John founded the John J. Fiore Memorial Golf Tournament in 2009 (incorporated as The John Fiore Foundation in 2019 and we received 501c3 status in 2020) as a way to honor his memory after he passed away on Flight 3407 in Clarence, New York on February 12, 2009.
John dedicated his life to his family and his country, spending 30 years serving the United States in both the Marine Corps and the Air Force He fought for our freedom in Vietnam, Desert Storm and had 2 tours of duty in the Iraqi War. John retired from active duty as Chief Master Sergeant in 2006 and was due to retire from his civilian career at Washington Mills in 2011. Our hero continues to be sorely missed.
John always had a special place in his heart for children, having spearheaded fundraisers for Children's Hospital and various local organizations. As of September 1, 2022, we have been able to raise $277,500 in our first thirteen years for the Ronald McDonald House of Buffalo. In addition, we've raised $51,000 for WNY Heroes and $120,385 for other organizations and local families in need. That brings our thirteen year grand total to $448,885. The family and friends of John thank everyone that has played a role in our success, we couldn't do it without the love and support of so many wonderful people.
* Member, Niagara River Region Chamber of Commerce
*December 2021 Coach Charity Of The Month Fashion Oulets Niagara Falls, USA
* December 2020 Berardi Immigration Law Giving Tuesday Recipient
* August 2020 Cellino Plumbing Non-Profit of the Month
* January 2019 One Buffalo Community Award Presented by Pegula Sports and Entertainment